CH Aspenpark Tequila Sunrise CD
Teak; (July 9, 1990 to Dec. 17, 2001)
Teak was our first Golden. We were inexperienced and he was sometimes a little stubborn but he was always friendly, he loved everyone and there was not an aggressive bone in his body. He was a great friend and we will never forget him.
Even as a puppy Teak liked big sticks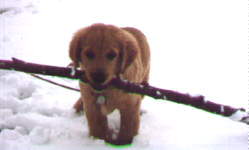 There is nothing better then getting a present, Eh Teak
And here he is helping Dave with his fishing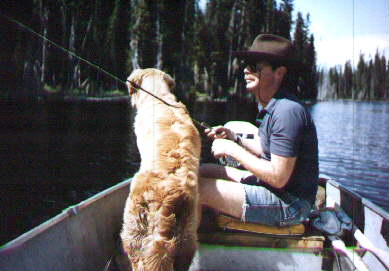 Teak says, Mom throw the stick!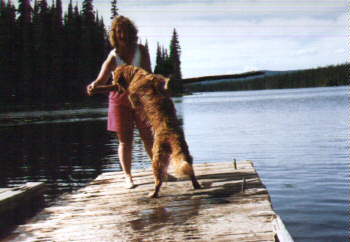 And he goes for it. Hard to believe how much trouble we had teaching him to swim.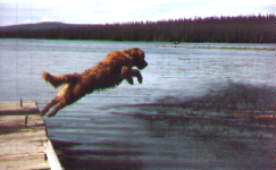 Finally, Teak becomes a Champion
One thing is for certain, he loved the kids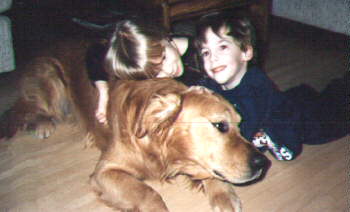 And he was happy to provide Mango with a safe place to sleep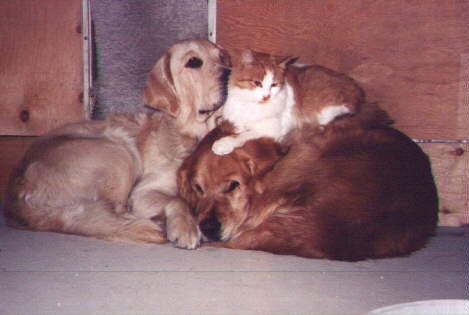 And he seemed to like the berries too.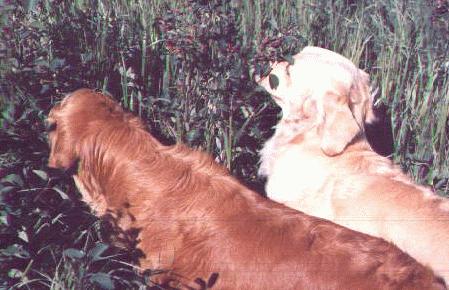 Unfortunately they cannot be with us forever, and in July 2001 Teak was diagnosed with cancer and lost his last battle on Dec. 17, 2001. Even now, over two years later it is difficult to tell the story, but he enriched our lives and we consider ourselves lucky to have had him.
Go back to the Heinze Family Page.
All contents copyright ©
Heinze Group
All rights reserved.